Overview
Grásta: Grace in Uncertainty

---
Mick Moloney tells the story of his unexpected lockdown in Bangkok, where, despite continued physical separation from his professional instruments and the scores of international performers with whom he collaborates—and being hit by a pickup truck—he's been able to find new ways to work as a musician and teacher, and rally his artistic community around him.

Premiered July 22, 2021.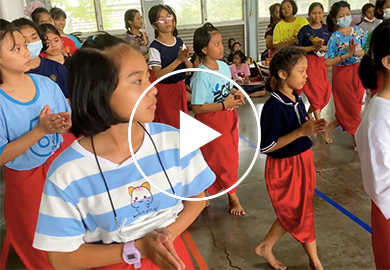 ---
"Bangkok Lockdown" and "Erin's Green Shore" by Mick Moloney 
With Bruce Molsky, John Doyle, and Liz Hanley 
Production facilities: Roy Esmonde
Mercy Center footage by Mick Moloney
Khlong Toei footage courtesy of "Christian's Vlog" on YouTube 
Commissioned by Irish Arts Center as part of Grásta: Grace in Uncertainty, 2020-2021.


---
Irish Arts Center's Grásta commissions series challenged twenty-six artists, reflecting a range of perspectives and disciplines, to create work in response to the idea of finding grace in uncertainty. Click here to learn more.

About the Artists
Our Supporters
Irish Arts Center programs are supported, in part, by government, foundation, and corporate partners including Culture Ireland, the agency for the promotion of Irish arts worldwide; public funds from the New York City Department of Cultural Affairs, in partnership with the Mayor's Office and the New York City Council; the New York State Council on the Arts with the support of Governor Kathy Hochul and the New York State Legislature; Howard Gilman Foundation; Jerome L. Greene Foundation; the Charina Endowment Fund; the Ireland Funds; the Shubert Foundation, Inc.; the Irish Institute of New York; the Society of the Friendly Sons of St. Patrick, New York; the Charles Lawrence Keith & Clara Miller Foundation; Northern Ireland Bureau; the Department of Foreign Affairs and the Consulate of Ireland in New York; British Council; Morgan Stanley; Tourism Ireland; and thousands of generous donors like you.