Overview
June 1-7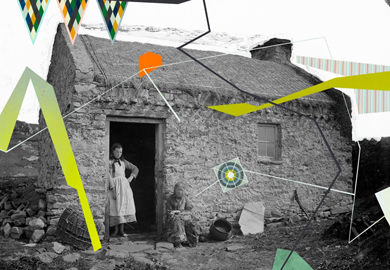 For a closer view, click the photo top left of page and scroll right.

Once upon a time, the only connection between Ireland and Eastern Europe was the novel Dracula. But since the expansion of the European Union in 2004, Ireland welcomed significant migration from the eastern accession states, making an immediate contribution to Irish life. The Estonian community in Ireland is one of the smallest of these communities, numbering around 3,000. 

Estonian is not part of the Indo-European family of languages, and has an entirely different history to Irish. So the fact that the Irish for "other," eile, is spelled like the Estonian for "yesterday" is just a curiosity for programmers working on language recognition software* to worry about. 
We are now halfway through our Irish Words of the Week with @theirishfor and from now until the end of the series, will be sharing each new word with a visual response from the artist Dannielle Tegeder. Here is her found image of the Gweedore, Co. Donegal of yesterday, with overlay.
*Speaking of software, programming languages based on Irish are becoming available to people who are so interested, including Setanta and Aireamhan.


---

May 25-31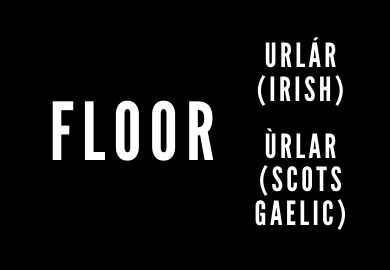 Every spring, the Scottish Poetry Library publishes its Best Scottish Poems anthology for the previous year. Its 2019 edition, released last week, is the first to include works in Scotland's three language—English Lowland Scots (the tongue of its greatest bard, Robert Burns) and Scots Gaelic.
Scots Gaelic is the closest language to Irish in the world, with thousands of words shared or mutually intelligible between them. But there are little differences. The most obvious one is that the fadas point in different directions; Irish fadas rise to the right, Scots Gaelic ones towards the left. Another difference is that some words have evolved over time to have different meanings. An example of this is ùrlar (Scots Gaelic) and urlár (Irish). Both of these words mean a lower horizontal surface but the Irish one more typically refers specifically the floor of a structure; the Scots Gaelic term also means the soil or outdoor ground (ùir means earth or soil).
You won't mix up Irish and Scots Gaelic if you sign up for Dublin City University's online Irish course, which is free and pitched at beginners. You can find out more here.


---

May 18-24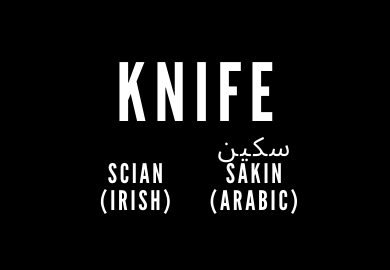 Genome-sequencing research on remains found in Bronze Age burial sites in Ireland has added evidence to the theory that ancient Ireland experienced significant inward migration from the Middle East. Could this movement of people have led to a transfer of words and ideas that have survived millennia? If this is true, one contender for a link could be the similar words for "knife" in Arabic and Irish, words that are distinct from the equivalent terms in these languages' immediate neighbors ("knife" in English and "couteau" in French, for example).
If you enjoy Instagram and want to find some Irish-language content there, @muinteoirmeg (Meg the Teacher) shares short clips in which the vocabulary she uses (and its translation into English) pops up onscreen as she discusses fashion, food, and much more.


---

May 11-17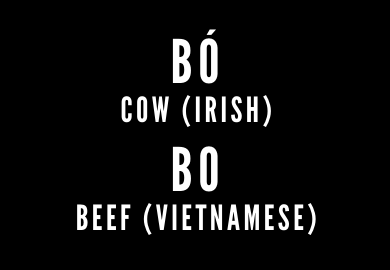 Irish visitors to Vietnam get a surprise when they see that the Vietnamese word for beef is the same as the Irish word for a cow. It's likely that both of these came from the French word boeuf (meaning beef or an ox) at different times: into Irish via the Normans in the twelfth century and into Vietnamese during the "Indochine Française" colonial era in the nineteenth and early twentieth centuries.
When languages carry different words for an animal and the meat that it produces, it generally reflects the social differences between those who prepare the food and those who get to eat it. This is the case in English (sheep vs. mutton, deer vs. venison) and in Irish (bó is a cow, mairteoil is beef).
If you are reading a piece of online text in Irish and want to know how it is pronounced, you can copy it into abair.tcd.ie/ga. This website, run by the School of Linguistic, Speech and Communication Sciences at Trinity College Dublin, will then read the text aloud in the dialect you prefer.


---

May 4-10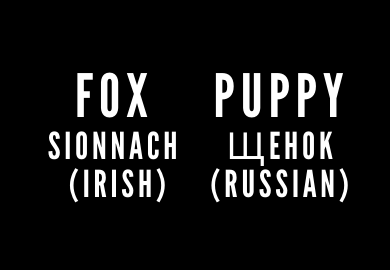 This is pronounced "shun-noch." Sometimes in Ireland a fox is also called a madra rua, which means a red-haired dog. This can leave red setters and silver foxes feeling very excluded, and possibly Russian puppies, too. The Russian and Irish words for "four," ceathair and cethire, also sound similar.
While the Russian and Irish languages are very different, the modernization of Irish spelling and alphabet in the mid-20th century was influenced by the success of such changes in the Russian language in 1918. However, if you are a fan of the older Irish script with the ponc séimhithe and elegant lowercase "s," you can still see that in Dinneen's Dictionary. Every home should have one, but there's an online version here.


---

April 27-May 3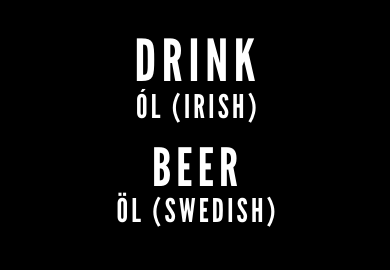 This rhymes with "hole" and is the verb in Irish to describe the act of drinking. And what might one drink? Whatever you're having yourself, but it just so happens that the Swedish word for beer sounds the same.
Ireland experienced Viking invasions from the eighth century onwards, founding towns such as Dublin and Waterford. This period led to the Irish language acquiring many loan words from Norse, including pingin (a penny), cnaipe (a button) and ispín (a sausage).
If you are interested in older forms of Irish you can learn more at dil.ie/concise. This is the Royal Irish Academy's Dictionary of Old and Middle Irish, and the concise version of the entry above is aimed at general readers.


---

April 20-26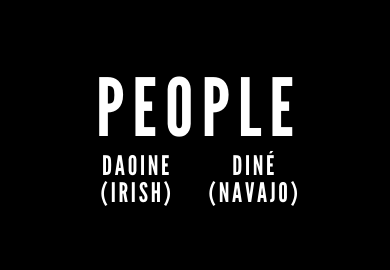 Pronounced "dee-nah," it's the Irish word for people—any kind of people at all. In the Navajo language, it means the Navajo people specifically. While it is unlikely that the word transferred from one community to the other, it's nice to know that ideas can rhyme, even when thousands of miles apart.
You can discover more Irish words—with audio clips on how to pronounce them in the three major dialects—on focloir.ie, an online English to Irish dictionary. The letters CMU are beside thousands of entries—just click on C for how it sounds in Connacht Irish, M for Munster Irish and U for Ulster Irish.


---

Inspired by this era of connectivity, this commissioned series features words in Irish that sometimes sound teasingly like fairly similar words in another language, curated by Darach Ó Séaghdha of the popular @theirishfor Twitter account and Motherfoclóir Irish language podcast. The thesis is not that these words share an etymological or historical root—only that they bumped into each other and smiled, which is far more interesting.

Starting with word seven, visual artist Dannielle Tegeder responds to the remaining words of the series with a new work featuring found images and illustration.
About the Artists
Our Supporters
Irish Arts Center programs are supported, in part, by government, foundation, and corporate partners including Culture Ireland, the agency for the promotion of Irish arts worldwide; public funds from the New York City Department of Cultural Affairs, in partnership with the Mayor's Office and the New York City Council; the New York State Council on the Arts with the support of Governor Andrew Cuomo and the New York State Legislature; the National Endowment for the Arts; Howard Gilman Foundation; Jerome L. Greene Foundation; the Charina Endowment Fund; The Shubert Foundation, Inc.; M&T Bank; The Ireland Funds; Northern Ireland Bureau; the Department of Foreign Affairs and the Consulate of Ireland in New York; Tourism Ireland; CIE Tours; Delta; and thousands of generous donors like you.