Overview
Grásta: Grace in Uncertainty

---
"I don't live in a big house or have an office, so if I want to have a different feel to a story, I usually move around: from my bedroom to the kitchen, or from the kitchen to the sitting room. With the lockdown, I had become bored with doing this, and one day drove out in my car, parked in a spot on the road, and started to write. I continued to do so until I finished the piece. 
"The first day of going out to write got me into the usual 'what if' mind frame: what if I were a woman actually afraid of going home? And when I drove home that day I started to imagine being that woman, walking in as that woman. What would be waiting for me inside? From there the idea of lingering in the car came, and the story 'Sitting in the Car' was created."
Presented as a short film narrated by Okorie, performed by Donna Anita Nikolaisen and Clement Chigaru, and directed by Bob Gallagher. 
Premiered May 18, 2021.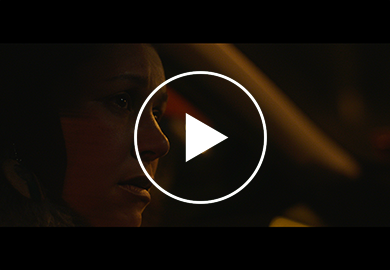 ---
"Sitting in the Car" 

Written and narrated by Melatu Uche Okorie
Directed and produced by Bob Gallagher
Featuring Donna Anita Nikolaisen and Clement Chigaru
Cinematography: Eleanor Bowman
Music: Gareth Quinn Redmond
Sound: Stephen Tiernan
Production design/costumes: Marie Denham

Commissioned by Irish Arts Center as part of Grásta: Grace in Uncertainty, 2020-2021.


---
Irish Arts Center's Grásta commissions series challenged twenty-six artists, reflecting a range of perspectives and disciplines, to create work in response to the idea of finding grace in uncertainty. Click here to learn more.

About the Artists
Our Supporters
Irish Arts Center programs are supported, in part, by government, foundation, and corporate partners including Culture Ireland, the agency for the promotion of Irish arts worldwide; public funds from the New York City Department of Cultural Affairs, in partnership with the Mayor's Office and the New York City Council; the New York State Council on the Arts with the support of Governor Kathy Hochul and the New York State Legislature; Howard Gilman Foundation; Jerome L. Greene Foundation; the Charina Endowment Fund; the Ireland Funds; the Shubert Foundation, Inc.; the Irish Institute of New York; the Society of the Friendly Sons of St. Patrick, New York; the Charles Lawrence Keith & Clara Miller Foundation; Northern Ireland Bureau; the Department of Foreign Affairs and the Consulate of Ireland in New York; British Council; Morgan Stanley; Tourism Ireland; and thousands of generous donors like you.