Details
Date(s)
Apr 16, 2021 – Apr 30, 2021
Contact
info@irishartscenter.org
Overview
Irish Arts Center is honored to join Carnegie Hall for Voices of Hope, an online festival that examines the resilience of artists and explores the works they felt compelled to create in response to challenging circumstances and human tragedy.
Ambitious in scope and spanning two weeks, Voices of Hope will feature 100 free digital events from Carnegie Hall and more than 35 leading cultural and academic institutions across New York City and beyond. The IAC presentation will feature three commissions from our Grásta series, each inspired by the idea of finding grace in the uncertainty of the current moment. These projects will be shared as podcasts featuring conversations with the artists and the debut of their new music.
Producers Dean Cappello, veteran of the radio and broadcast worlds, and Gobsmack Studios.
---
Dirk Powell and Mike McGoldrick: "Which Star Are You Going to Follow?"
Appalachian musician Dirk Powell and multi-instrumentalist and composer Mike McGoldrick (Lúnasa) collaborate on a music + found-sounds piece inspired by journeys taken over generations, seeking out the stars to guide them along the way. 
Premiere: April 19, 4pm ET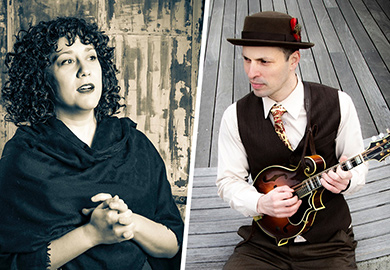 Tamar Korn and Dennis Lichtman: "Walking Into the Unknown" 
Vocalist Tamar Korn and jazz, swing, and bluegrass musician Dennis Lichtman perform a combination of original work and interpretations of early 20th century songs. 
Premiere: April 25, 4pm ET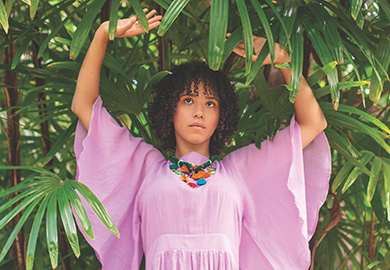 The "mesmerizing" (Rolling Stone) Grenadian-Canadian artist Kaia Kater explores themes of impermanence and change through a tapestry of journal entries and musical vignettes. 
Premiere: April 27, 4pm ET


---
Carnegie Hall reprise of Grásta: Grace in Uncertainty: April 30, 4pm ET


---
Our Supporters
Irish Arts Center programs are supported, in part, by government, foundation, and corporate partners including Culture Ireland, the agency for the promotion of Irish arts worldwide; public funds from the New York City Department of Cultural Affairs, in partnership with the Mayor's Office and the New York City Council; the New York State Council on the Arts with the support of Governor Andrew Cuomo and the New York State Legislature; the National Endowment for the Arts; Howard Gilman Foundation; Jerome L. Greene Foundation; the Charina Endowment Fund; The Shubert Foundation, Inc.; M&T Bank; The Ireland Funds; Northern Ireland Bureau; the Department of Foreign Affairs and the Consulate of Ireland in New York; Tourism Ireland; CIE Tours; Delta; and thousands of generous donors like you.