Details
Most events FREE
---
Date(s)
Nov 2, 2018 – Nov 4, 2018
Contact
Box Office
888-616-0274
boxoffice@irishartscenter.org

Phone hours:
10am-6pm, Monday-Friday

In person:
Opens 60 minutes before the performance on show days
---
Location
Irish Arts Center
553 West 51st Street
New York, NY 10019
Overview
Curated by Nick Laird

Presented in association with Glucksman Ireland House NYU and Literary Hub
We celebrate a decade of "literary revelry" (New Yorker) with esteemed poets drawn from both sides of the Atlantic for one of our favorite weekends of the year. Leave your cell phones at the door.  


---

FRIDAY, NOVEMBER 2 | 8pm

Favorite Poems 
Tickets $15-40, including after-party with poets
The opening night tradition of bringing together special guests and festival poets to share the Irish verses they love most. This year's lineup features television host and author Padma Lakshmi, award-winning novelists Zadie Smith and Belinda McKeon, and poet Timothy Donnelly.
Nick Laird "From the Republic of Conscience" by Seamus Heaney
Vona Groarke "Adam's Curse" by William Butler Yeats
Maureen McLane "Donal Og" translated by Lady Gregory
Timothy Donnelly "I Am Stretched on Your Grave" translated by Frank O'Connor
Belinda McKeon "Found" and "An Encounter" by Miriam Gamble
Rachael Gilkey "An Idea of Iowa" by Catriona O'Reilly
Billy Ramsell "Oiche Nollaig na mBan" by Seán Ó Riordáin
Ciaran Carson "Snow" by Louis MacNeice
Zadie Smith "Progress" by Alan Gillis
Annemarie Ní Churreáin "Ceist na Teangan" by Nuala Ní Dhomhnaill
Michelle O'Sullivan "The Lady's Tower" by Eiléan Ní Chuilleanáin
Padma Lakshmi "The Full Indian Rope Trick" by Colette Bryce
Nick Laird "A Disused Shed in Co. Wexford" by Derek Mahon
Click image to watch curator Nick Laird's opening remarks: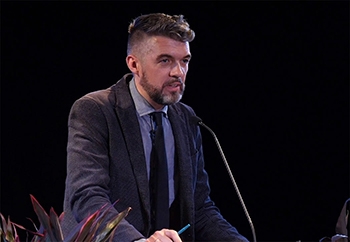 PoetryFest's Favorite Poems event was inspired in part by Robert Pinsky's Favorite Poem Project.


---

SATURDAY, NOVEMBER 3
All readings FREE (reservations strongly encouraged)
2pm | Natalie Diaz and Annemarie Ní Churreáin, presented by guest curator Katie Raissian of Stonecutter


3:30pm | Michelle O'Sullivan and Maureen McLane 

5pm | Vona Groarke and Ben Lerner
Opening reading by Seamus Heaney Centre for Poetry Prize-winner Richard Osmond 

---

SUNDAY, NOVEMBER 4
All readings FREE (reservations strongly encouraged)
2pm | Billy Ramsell and Nicole Sealey 

3:30pm | Desert Island Poems: Ciaran Carson and Marie Howe discuss the poems they would want with them if deserted on an island. Conversation moderated by Nick Laird.

Ciaran Carson "I Heard a Fly buzz — when I died" by Emily Dickinson
Ciaran Carson "As One Put Drunk into the Packet-Boat" by John Ashbery
Ciaran Carson "Stopping by the Woods on a Snowy Evening" by Robert Frost
Ciaran Carson "Five Flights Up" by Elizabeth Bishop
Ciaran Carson "The House Was Quiet and the World Was Calm" by Wallace Stevens
Marie Howe "Clearances" by Seamus Heaney
Marie Howe "Directive" by Robert Frost
Marie Howe "Campers leaving, summer 1981" by Jane Kenyon
Marie Howe "The Wanderer" by W.H. Auden
Marie Howe "The Death of Fred Clifton" by Lucille Clifton

5pm | Ciaran Carson and Marie Howe
Promotional support provided by NYU Creative Writing Program.




---

WITH OUR PARTNERS AT GLUCKSMAN IRELAND HOUSE

THURSDAY, NOVEMBER 1
7pm | The Tom Quinlan Lecture in Poetry with the 2018 Seamus Heaney Centre for Poetry Prize-winner Richard Osmond at Glucksman Ireland House NYU, 1 Washington Mews, New York, NY 10003

---

Irish Arts Center programming is supported by Culture Ireland – Promoting Irish Arts Worldwide.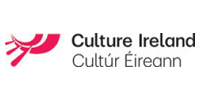 Featuring
Our Supporters
Irish Arts Center programs are supported, in part, by government, foundation, and corporate partners including Culture Ireland, the agency for the promotion of Irish arts worldwide; public funds from the New York City Department of Cultural Affairs, in partnership with the Mayor's Office and the New York City Council; the New York State Council on the Arts with the support of Governor Kathy Hochul and the New York State Legislature; Howard Gilman Foundation; Jerome L. Greene Foundation; the Charina Endowment Fund; the Ireland Funds; the Shubert Foundation, Inc.; the Irish Institute of New York; the Society of the Friendly Sons of St. Patrick, New York; the Charles Lawrence Keith & Clara Miller Foundation; Northern Ireland Bureau; the Department of Foreign Affairs and the Consulate of Ireland in New York; British Council; Morgan Stanley; Tourism Ireland; and thousands of generous donors like you.