Contact
info@irishartscenter.org
Overview
This fall, Irish Arts Center challenged our community to create a pop-up book with us! We were delighted to premiere our collective online storytelling project at our annual Oíche Shamhna/Irish Halloween celebration, and share it with you here to enjoy for the remainder of the fall 2020 season.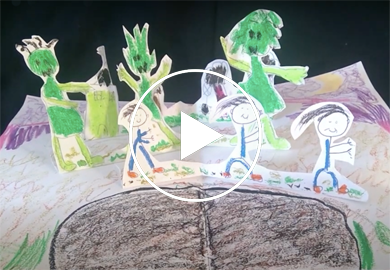 Pop-Up Book Artists: 
Kiera Hennessy 
Judy and Oswald 
Michelle Noonan 
Anona Greene 
Evie McKenna 
Jess Lynch 
Pat Moloney 
Karen Wolgemuth 
James and Clare Judge 
Ava Kotse and Lila Bliss 
Fiona O'Leary 
Drake Malave 
Dunkan Malave 
Cara DiGirolamo 
Stephanie Condrey 
Luke and Sean Sweeney 
Voice-Over Artist: Theodore Rappaport
Music: "Silver March" by Mia Theodoratus and Michael Evans
Editing and Project Consultation: Maeve Clancy
Our Supporters
Irish Arts Center programs are supported, in part, by government, foundation, and corporate partners including Culture Ireland, the agency for the promotion of Irish arts worldwide; public funds from the New York City Department of Cultural Affairs, in partnership with the Mayor's Office and the New York City Council; the New York State Council on the Arts with the support of Governor Andrew Cuomo and the New York State Legislature; the National Endowment for the Arts; Howard Gilman Foundation; Jerome L. Greene Foundation; the Charina Endowment Fund; The Shubert Foundation, Inc.; M&T Bank; The Ireland Funds; Northern Ireland Bureau; the Department of Foreign Affairs and the Consulate of Ireland in New York; Tourism Ireland; CIE Tours; Delta; and thousands of generous donors like you.