Overview
Grásta: Grace in Uncertainty

---
"My audio piece is centered around themes of impermanence and the volatility of change, combining journal entries with musical sketches written during the pandemic. Together, these form a time capsule against which the listener can begin to process the emotions of this era. How would you communicate with future generations about this time? What would you want them to know?"
The "mesmerizing" (Rolling Stone) Grenadian-Canadian artist Kaia Kater explores themes of impermanence and change through a tapestry of journal entries and musical vignettes.

Premiered April 27, 2021, as part of Carnegie Hall's Voices of Hope festival. 


---
Conversation + music available on Irish Arts Center's Spotify, SoundCloud, Google Podcasts, and YouTube channels.
To listen to just the music, click here.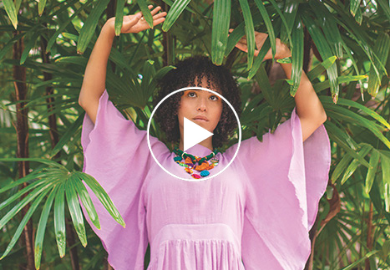 Kaia mentions a phrase by poet Kyle "Guante" Tran Myhre: "White supremacy is not a shark; it is the water." We wanted to share a link to the artist's writing and resources, to further understand the context.


---
"Fear"
Written by Kaïa Kater-Hurst (SOCAN/BMI)
Produced by Kaïa Kater-Hurst and Andrew Ryan 
Kaïa Kater-Hurst: synths and piano
Andrew Ryan: upright bass, synths, and piano
Kevin Matthews: drums
Presented as part of Carnegie Hall's Voices of Hope Festival 2021
Executive producer, podcast: Dean Cappello
Producer, podcast: Paul Chuffo
Music for podcast from "Inagh Valley / Rockin' the Boat" by Máirtín O'Connor, Cathal Hayden, and Patrick Doocey
Commissioned by Irish Arts Center as part of Grásta: Grace in Uncertainty, 2020-2021.


---
Irish Arts Center's Grásta commissions series challenged twenty-six artists, reflecting a range of perspectives and disciplines, to create work in response to the idea of finding grace in uncertainty. Click here to learn more.

About the Artists
Our Supporters
Irish Arts Center programs are supported, in part, by government, foundation, and corporate partners including Culture Ireland, the agency for the promotion of Irish arts worldwide; public funds from the New York City Department of Cultural Affairs, in partnership with the Mayor's Office and the New York City Council; the New York State Council on the Arts with the support of Governor Kathy Hochul and the New York State Legislature; the National Endowment for the Arts; Howard Gilman Foundation; Jerome L. Greene Foundation; the Charina Endowment Fund; the Shubert Foundation, Inc.; M&T Bank; the Ireland Funds; Northern Ireland Bureau; the Department of Foreign Affairs and the Consulate of Ireland in New York; Tourism Ireland; CIE Tours; Delta; and thousands of generous donors like you.