Overview
Grásta: Grace in Uncertainty
---
"It's disorienting, unfamiliar, and anxiety-producing. But could this moment, this unanticipated pause, lead to anything good?" 
We present the inaugural projects of our Grásta commissions series: original works by two of Ireland's foremost contemporary writers, shared in a podcast produced by Dean Cappello and Gobsmack Studios. Scroll down to listen.
~

"Here in this doldrum year, as we exist in the half-life of our strange new sentience, there is a recurring sensation that time itself has become unfixed—the present moment seems to have evaporated, we are held in a state of suspended animation, and we are inclined to wallow in the past and future tenses."

From Kevin Barry, a meditation on his early writing life, and how a chance encounter with an old man in a West Cork pub—and a hare on a hill—helped throw the idea of grace into relief. 
~
"Vulnerability is my least favourite word [...] because it sounds just like what it is, an invitation to punch. But whether I like the word or not, there is now a vulnerability about which is inescapable. It ensured everyone got punched, that a lot of people hit the mat, and that a lot of people couldn't get back up. And it meant everyone wondered, communally—maybe for the first time in living memory—what the hell was going on?"

From Eimear McBride, a richly interior piece examining the role of vulnerability in the author's life, and whose coda finds a kind of peace in our shared trials. 
~

These essays—a rare medium for the authors—were commissioned and penned independently, but come together in delightful ways, finding paths to illuminate and challenge the other. Post-completion of their writing, the authors did the same, coming together for a conversation also featured in this special audio production.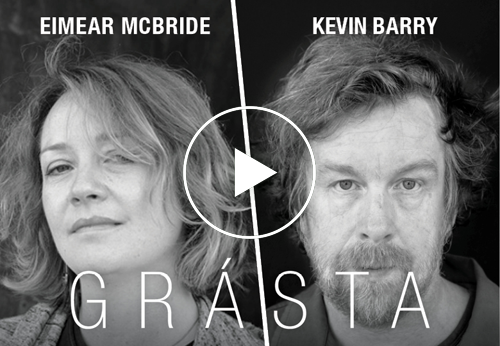 Click thumbnail to listen on YouTube. Click here to listen on SoundCloud.


---
"Grásta: Grace in Uncertainty"
Written and read by Eimear McBride 
"The Hare" 
Written and read by Kevin Barry

Executive Producer Dean Cappello
Producer Paul Chuffo
Music from "Inagh Valley / Rockin' the Boat" (composed by Máirtín O'Connor) performed by Máirtín O'Connor, Cathal Hayden, and Patrick Doocey
Commissioned by Irish Arts Center as part of Grásta: Grace in Uncertainty, 2020-2021.


---
Irish Arts Center's Grásta commissions series challenged twenty-six artists, reflecting a range of perspectives and disciplines, to create work in response to the idea of finding grace in uncertainty. Click here to learn more.
About the Artists
Our Supporters
Irish Arts Center programs are supported, in part, by government, foundation, and corporate partners including Culture Ireland, the agency for the promotion of Irish arts worldwide; public funds from the New York City Department of Cultural Affairs, in partnership with the Mayor's Office and the New York City Council; the New York State Council on the Arts with the support of Governor Kathy Hochul and the New York State Legislature; Howard Gilman Foundation; Jerome L. Greene Foundation; the Charina Endowment Fund; the Ireland Funds; the Shubert Foundation, Inc.; the Irish Institute of New York; the Society of the Friendly Sons of St. Patrick, New York; the Charles Lawrence Keith & Clara Miller Foundation; Northern Ireland Bureau; the Department of Foreign Affairs and the Consulate of Ireland in New York; British Council; Morgan Stanley; Tourism Ireland; and thousands of generous donors like you.