Details
Free
5 hours
---
Date(s)
Sat, May 12
11:00am
Contact
This is a free event and not reserve-able.
---
Location
West 52nd Street (between 10th and 11th Avenues)
New York, NY
Overview
We are proud to be a part of CHDC's Annual Spring event. Representing Irish Arts Center will be fiddler Cleek Schrey, who will be performing a 30 minute set from 2:30—3pm.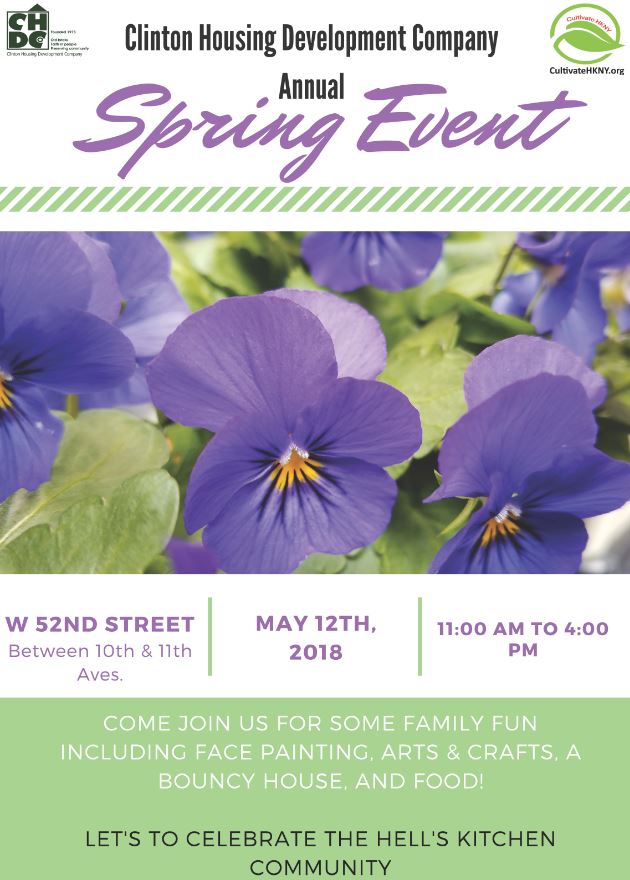 From our friends at CHDC:
The Annual CHDC Spring Event recognizes CHDC and Cultivate HKNY as leaders in the community creating and supporting affordable housing and neighborhood greening efforts, in addition to bridging CHDC and other residents throughout the Northwest area in Hell's Kitchen and beyond. 
An allied goal of this event is to demonstrate CHDC's commitment in creating strong community partnerships by highlighting the work of longstanding and newer local partners with special headliner performances. CHDC and Cultivate HKNY's internal goal of cultivating and strengthening our partnerships is to support long-term goals that we develop jointly with our partners around greening and community development. With Cultivate HKNY at the forefront of CHDC's community engagement activities, we hope to generate a wider constituency of residents, volunteer organizations, and neighborhood advocates to develop shared stewardship goals. 
Our Supporters
Irish Arts Center programs are supported, in part, by government partners including the New York State Council on the Arts with the support of Governor Andrew Cuomo and the New York State Legislature; public funds from the New York City Department of Cultural Affairs, in partnership with the City Council; Culture Ireland, the agency for the promotion of Irish arts worldwide; the Department of Foreign Affairs and the Consulate of Ireland in New York; The Ireland Funds, America; Howard Gilman Foundation; Tourism Ireland; Bloomberg Philanthropies; The Nancy Malone Living Trust; The Shubert Foundation; The Society of the Friendly Sons of St. Patrick in New York City; The Society of the Friendly Sons of St. Patrick in Westchester County; The Knights of St. Patrick; The Jerome L. Greene Foundation; Milwaukee Irish Fest Foundation; and thousands of generous donors like you.