Details
FREE
8am until the books run out!
---
Date(s)
Fri, Mar 15, 2019
8:00am
Contact
rachael@irishartscenter.org
---
Location
BOOK DAY POP-UP STATIONS

FRIDAY, MARCH 15
(Beginning 8am)
Manhattan
- Chinatown, Canal Street and Centre Street, subway to J,N,Q,R to Canal Street stop
- 72nd & Broadway, outside 1/2/3 train station
- Grand Central, southeast corner of 42nd & Park
- Church of the Holy Cross, 329 West 42nd
Brooklyn
- Bay Ridge Avenue R train station, 4th Ave between 68th and Bay Ridge Ave
Queens
- Roosevelt & 61st, southeast corner
- Diversity Plaza, between 73rd & 74th Streets
- Fresh Pond Road M train station, near 67th Ave
The Bronx
- Fordham Road & Webster Avenue, northeast corner
Staten Island, starts at 7am
- St. George Ferry Terminal


THURSDAY, MARCH 14
(12:30-2pm)
Buffalo
- Spot Coffee, 765 Elmwood Ave
Overview
Presented by Irish Arts Center in association with New York City Council, New York State Assembly, Literature Ireland, and Asian American Arts Alliance.


---

Each St. Patrick's Day, thanks to our wonderful community of supporters and sponsors, staff and volunteers, we give away thousands of free books by Irish and Irish American authors as well as those of other cultures, including in recent years Mexican (2017) and Caribbean (2018). This year, alongside titles by writers of Irish heritage we share stories by Asian American authors in a celebration of our different and kindred voices on this special day for the global Irish community. 

Get YOUR free book on March 15 at one of our dozen Book Day pop-up stations across all five boroughs, where there will be fiction, nonfiction, children's books, poetry, and books in translation to choose from.


---

"This is a lovely way to remind everybody that the Irish are known for their literature."—Wall Street Journal 


---

For the price of a pint, you can help New Yorkers #GetLit. Help support Irish Arts Center Book Day.


---

GET INVOLVED!

For book donation and sponsorship opportunities, contact Rachael Gilkey at rachael@irishartscenter.org.
For volunteer opportunities, contact iacbookday@gmail.com.


---

NEW YORK CITY COUNCIL
Councilmember Corey Johnson, Speaker, Manhattan
Councilmember Justin Brannan, Brooklyn
Councilmember Margaret Chin, Manhattan
Councilmember Daniel Dromm, Queens
Councilmember Robert Holden, Queens
Councilmember Deborah Rose, Staten Island
Councilmember Helen Rosenthal, Manhattan
Councilmember Ritchie Torres, Bronx
Councilmember Jimmy Van Bramer, Queens
NEW YORK STATE ASSEMBLY
Assemblymember Michael Cusick, Staten Island
Assemblymember Linda Rosenthal, Manhattan
Assemblymember Sean Ryan, Buffalo

NEW YORK STATE SENATE
Senator Brad Hoylman, Manhattan
AUTHORS
V.S. Alexander, Gina Apostol, Colin Barrett, Kevin Barry, Gerry Boland, Anna Burns, Lynn Cahoon, Lisa Carey, Ciaran Carson, Sara Cassidy, Harry Clifton, Mollie Cox Bryan, Sudanna Craig, Marie Miranda Cruz, Devon Delaney, Duy Doan, Charlie Donlea, JP Donlevy, Eamonn Doyle, Roddy Doyle, Anne Enright, Jack Fennell, Aubrey Flegg, Leontia Flynn, Oona Frawley, Susan Furlong, Hazel Gaynor, Alan Gillis, Vona Groarke, Gina Marie Guadagino, Felicity Hayes-McCoy, Dave Hendrick, Maeve Higgins,  Kevin Holohan, Yu Hua, S. L. Huang, James Joyce, Emma Kavanagh, Claire Keegan, Kevin Kiely, Crystal Kim Hana, Thomas Kinsella, Chris Klein, Susan Lanigan, Paula Leyden, Antia Lo, Illus Luca Pizzari, Natasha Mac a'Bhaird, Susan Maxwell, Sam McBratney, Eimear McBride, Colum McCann, Shirlee McCoy, Megan McDonald, Medbh McGuckian, Lindsay McKenna, Belinda McKeon, GA McKevett, Paula Meehan, Leslie Meier, Maire Mhac an tSaoi, Jan Michael, John Montague, Thomas Morris, Bharati Mukherjee, David Mura, Colin Murphy, Richard Murphy, Sabina Murray, Viet Nguyen, Eiléan Ní Chuilleanáin, Nuala Ní  Dhomhnaill, Seán Ó Ríordáin, Kevin O'Brien, Conor O'Callaghan, Carlenne O'Connor, Caitríona O'Reilly, Frank Ormsby, Mark O'Sullivan, Samuel Park, Tom Phelan, P.R. Prendergast, Robert Rorke, Hugh Ryan, Jade Sharma, Kristen Simmons, Kevin Stevens, Niall Sweeney, Gengorah Tagame, Amy Tan, Karen Tei Yamashita, Patrick Taylor, Lysley Tenorio, Matt Thomas, Ryan Tubridy, Helen Wan, Kathy Wang, Sally Wen Mao, David Wheatley, Sheena Wilkinson, Cecily Wong, Jenny Xie, Paul Yoon, Emily Yoon, Sun Yung Shin, Yanyi
PUBLISHERS
Akashic, Atria Books, Candlewick Press, Coffee House Press, Doubleday Publishing/Penguin Random House, Ecco, Gallery Books | Simon & Schuster, Graywolf Press, Grove Atlantic, Harper Perennial & Harper Paperbacks, HarperCollins Publishers, Literature Ireland, Kensington Books, Little Island Books, Pantheon Books, Simon & Schuster, Soho Press, St. Martins Press, Syracuse University Press, Thames & Hudson, The O'Brien Press, Tor, Tramp Press, Viking/Penguin Random House, Wake Forest University Press, William Morrow, Yale University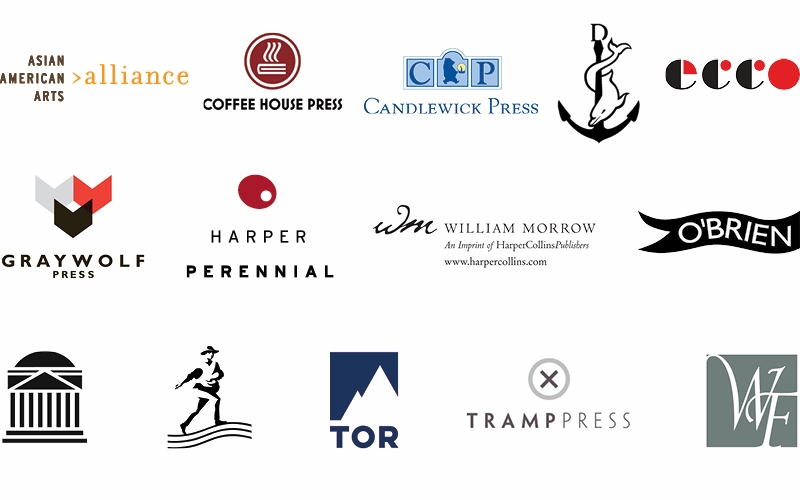 #IACBookDay
#GetLit
Not all titles available at all Book Day pop-up stations. Selections will vary from location to location.


---








Support for this program is also provided by the Charles Lawrence Keith & Clara Miller Foundation, Irish Institute, and the Society of the Friendly Sons of St. Patrick, Westchester County.
Our Supporters
Irish Arts Center programs are supported, in part, by government, foundation, and corporate partners including Culture Ireland, the agency for the promotion of Irish arts worldwide; public funds from the New York City Department of Cultural Affairs, in partnership with the Mayor's Office and the New York City Council; the New York State Council on the Arts with the support of Governor Kathy Hochul and the New York State Legislature; Howard Gilman Foundation; Jerome L. Greene Foundation; the Charina Endowment Fund; the Ireland Funds; the Shubert Foundation, Inc.; the Irish Institute of New York; the Society of the Friendly Sons of St. Patrick, New York; the Charles Lawrence Keith & Clara Miller Foundation; Northern Ireland Bureau; the Department of Foreign Affairs and the Consulate of Ireland in New York; British Council; Morgan Stanley; Tourism Ireland; and thousands of generous donors like you.