Details
FREE
---
Date(s)
Wed, Jun 3, 2020
11:00am
Contact
info@irishartscenter.org
---
Location
Overview
Utsav Lal and Sam Comerford perform songs, discuss their long-distance friendship across borders, and teach kids how to "make" their own percussion kits and play along! For audiences four and up.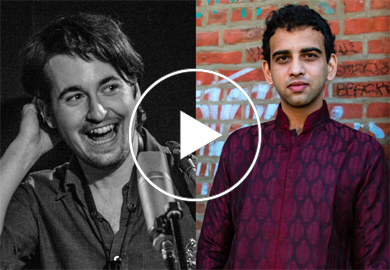 ---

To play along, you will need to find and construct your own special "drumkit" by finding at least one low, one high and one wildcard sound that can be made from objects in your house. Examples of things you might use to make your "drumkit":
For the low sound:  
Find anything that makes a low "thuddy "sound when you hit it:
1. Suitcase 
2. Plastic box
3. Toy drums 
4. Pillow or cushion
5. Whatever else you can find
 
For the high sound:
Find anything which makes a high, twinkly sound when you hit it (try using pencils or metal spatulas to hit):
1. Drinking glasses or mugs (ask your grown up first before hitting it and try to find something sturdy that won't break easily)
2. Bells of any kind
3. Pots and pans
 
For the wildcard sound:  
Run around your house and find out how things sound by playing around with them (again ask your grown up first before you hit anything if you are not sure if it will break.) Pick your favorite sound. If you have more than one, bring them both! Utsav's favorite wildcard sound is a toy cow with a wind-up mechanism to make it move for instance.


---

At Home With Irish Arts Center is a series of new, commissioned work by our local and international artistic community as part of IAC's reimagined spring 2020 season. These events, and much more, will be shared on Twitter, Facebook and Instagram, and via email over the next several weeks.

Our Supporters
Irish Arts Center programs are supported, in part, by government, foundation, and corporate partners including Culture Ireland, the agency for the promotion of Irish arts worldwide; public funds from the New York City Department of Cultural Affairs, in partnership with the Mayor's Office and the New York City Council; the New York State Council on the Arts with the support of Governor Kathy Hochul and the New York State Legislature; Howard Gilman Foundation; Jerome L. Greene Foundation; the Charina Endowment Fund; the Ireland Funds; the Shubert Foundation, Inc.; the Irish Institute of New York; the Society of the Friendly Sons of St. Patrick, New York; the Charles Lawrence Keith & Clara Miller Foundation; Northern Ireland Bureau; the Department of Foreign Affairs and the Consulate of Ireland in New York; British Council; Morgan Stanley; Tourism Ireland; and thousands of generous donors like you.