Details
FREE
7 am until the books run out!
---
Date(s)
Sat, Mar 17
7:00am
Contact
Get involved!
For book donation and sponsorship opportunities promoting this day of literacy and Irish culture, email Rachael Gilkey at rachael@irishartscenter.org.

To volunteer, email volunteer@irishartscenter.org.
Overview
Presented by Irish Arts Center in association with the New York City Council, New York State Assembly, and Literature Ireland


---

Since 2011, Irish Arts Center staff and volunteers have distributed tens of thousands of free books to New Yorkers of all backgrounds every St. Patrick's Day. On March 17, 2018, we once again take to the streets across all five boroughs, this year armed with literature by Irish and Irish American writers and authors from the Caribbean islands, to share one of the great legacies that bridge these diverse cultures—their stories.

Get YOUR free book at one of our dozen Book Day pop-up stands across the five boroughs. Locations will be announced soon: watch this space for updates, or follow us on Twitter and Facebook (#IACBookDay).


---

"Promote a positive message about Ireland and the Irish thought our literary greats this St. Patrick's Day. We have so many storytellers to celebrate and I hope you will join us."—Liam Neeson

"This is a lovely way to remind everybody that the Irish are known for their literature."—The Wall Street Journal 


---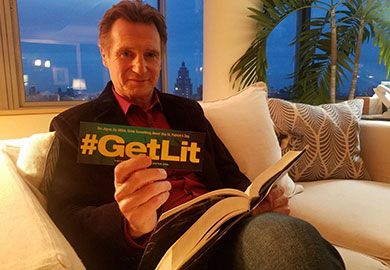 Re-Joyce, Go Wilde, Drink Something Novel at this citywide celebration of literature!

Last year we launched the very first #GetLit crowdfunding campaign as part of our 7th Annual Book Day. Encouraging our community to "raise a glass for the write reasons" on St. Patrick's Day, we raised more than $10,000 to deliver thousands of free books to New Yorkers across the five boroughs.

Watch the #GetLit trailer with Liam Neeson.


---

Special thanks to all our generous donors who help make our free programming possible: 
Dan Barry, Steven Barry, Gina Boonshoft, Loretta Brennan Glucksman, Simon Burke, Jumana and Brendan Culligan, Susan C. and Martin Dempsey, Katherine and Robert Devlin, James Donaghy, John Duffy, Mark Fitzgerald, Sheila and Mark Flinn, Priya Gandhi, Claire Kelly, Dr. Franklin Lowe and Ambassador Anne Anderson, Willie McCaffrey, John McDonagh, Michael McEvoy, Steven McInnis, Kieran McLaughlin, Elise and Jim McVeigh, Niall O'Muilleoir, Robert Petersen, Tom Quick, Kathy and Peter Quinn, Rebecca Rooney, Anne Stringfield, Thomas Troy, and Maureen and Thomas Wipf.






Our Supporters
Irish Arts Center programs are supported, in part, by government partners including the New York State Council on the Arts with the support of Governor Andrew Cuomo and the New York State Legislature; public funds from the New York City Department of Cultural Affairs, in partnership with the City Council; Culture Ireland, the agency for the promotion of Irish arts worldwide; the Department of Foreign Affairs and the Consulate of Ireland in New York; The Ireland Funds, America; Howard Gilman Foundation; Tourism Ireland; Bloomberg Philanthropies; The Nancy Malone Living Trust; The Shubert Foundation; The Society of the Friendly Sons of St. Patrick in New York City; The Society of the Friendly Sons of St. Patrick in Westchester County; The Knights of St. Patrick; The Jerome L. Greene Foundation; Milwaukee Irish Fest Foundation; and thousands of generous donors like you.