Overview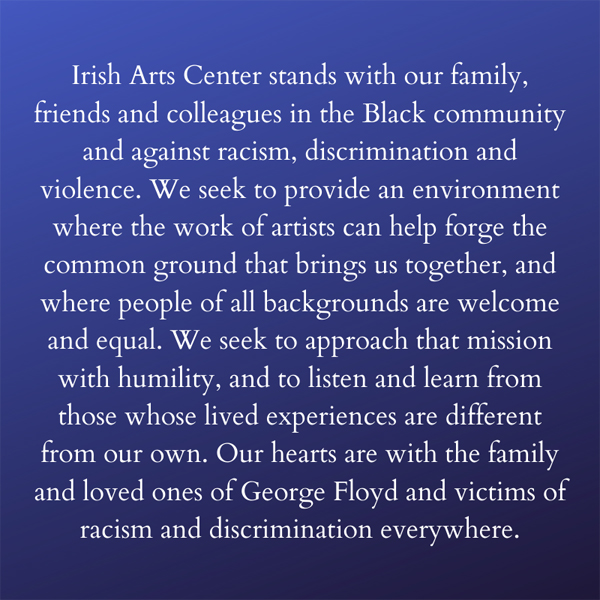 Listening and Learning — Resources to Share

We all have a role to play toward dismantling systemic racism and supporting the Black community, and we at Irish Arts Center will redouble our efforts to actively do our part. We're listening and learning, and wanted to share some of the resources we have found particularly compelling.
The Classical Theatre of Harlem has curated a list of anti-racism resources, including podcasts, film and TV, literature, and information and tools for conducting anti-racism assessment and training at the individual and organizational level, here. We at Irish Arts Center are researching different anti-racism seminars for our staff and board as part of our own self-reflection and action. 
The Schomburg Center for Research in Black Culture has curated the Black Liberation Reading List here, a list of 95 works of fiction, poetry, and nonfiction with a focus on Black authors, many available digitally on SimplyE, NYPL's free e-reader app. 
Sallay Matu Garnett, also known as the musician and songwriter Loah, spoke with the Irish Times' Inside Politics podcast about racism in Ireland. We were particularly struck by her formulation that casual racism exists on a continuum that ends in murder. Listen here. 
The Bronx Book Festival celebrated its third year this past Saturday, June 6. Bronx Book Festival centers Black and Brown voices in the world of literature. The Festival went digital this year, and you can access the recorded festival conversations here, for panels with authors of color writing across genres for middle grade, young adult, and adult readers. Please feel free to share these resources.
We'd also love to hear what you're reading and learning. Send us an email at info@irishartscenter.org or connect with us on Instagram, Twitter, and Facebook. 
We will be continuing this conversation internally and with you, our community, and letting you know what we as an organization will be doing to combat racism and become better allies to our Black family, friends, and colleagues in a way that is meaningful and enduring. 
Stay safe and well and look after each other. 
With much love from Irish Arts Center

Our Supporters
Irish Arts Center programs are supported, in part, by government, foundation, and corporate partners including Culture Ireland, the agency for the promotion of Irish arts worldwide; public funds from the New York City Department of Cultural Affairs, in partnership with the Mayor's Office and the New York City Council; the New York State Council on the Arts with the support of Governor Andrew Cuomo and the New York State Legislature; the National Endowment for the Arts; Howard Gilman Foundation; Jerome L. Greene Foundation; the Charina Endowment Fund; The Shubert Foundation, Inc.; M&T Bank; The Ireland Funds; Northern Ireland Bureau; the Department of Foreign Affairs and the Consulate of Ireland in New York; Tourism Ireland; CIE Tours; Delta; and thousands of generous donors like you.